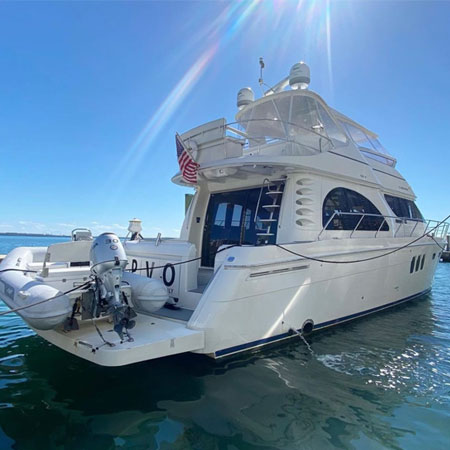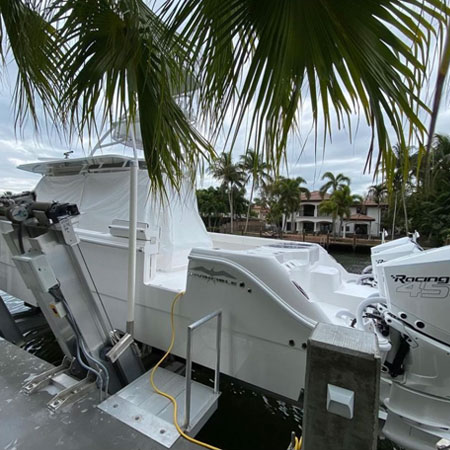 BUFFING AND WAXING
Our buff and wax service will remove oxidation, bring back the gloss and further protect your gel coat making your boat easier to clean throughout the year.
Depending on the level of oxidation, we'll either do a one-step wax job where we use a compound and wax mixture with a power buffer to remove light to medium oxidation or if your boat has heavier oxidation, we can do a two-step process where we first go over the boat with compound to remove the oxidation and then with wax to protect the glossy new layer of gel coat.
If you're unsure of what type of detailing your boat needs (a one or two-step process), we always do test spots before we start working to figure out just the right compound and wax mixture and can contact you if it's going to require more than just a one-step process.
We use a special long-lasting polish that helps fully protect your gel coat for 12 to 18 months, unlike wax that starts to degrade after just three months. This helps your boat stay cleaner longer, makes it easier to clean, resists oxidation for a longer period of time, and requires less compounding. We're the only detailing company in Miami that uses this special long-lasting polish, so when you choose Neptune Marine Detailing, you can be sure your boat will look shiny and clean longer than any other company can promise.
OTHER CLEANING AND DETAILING SERVICES
Here is a list of other services offered by Neptune Marine Detailing:
Ceramic Coating

Teak Cleaning

Metal Polishing
Acid Wash

Boat Upholstery and Cushions